Dobro znamo za izreku da je pas najbolji čovekov prijatelj, ali jedan par iz Litvanije odlučio je da ovu izreku okrene i da oni postanu najbolji prijatelji svim psima na tajlandskom ostrvu Koh Kud.
Naime, Mantas i Rasa su se pre šest godina preselili na ovo ostrvo nakon što su izgubili svog voljenog psa. Tada su odlučili da usvoje više pasa i taj broj je ubrzo dostigao petnaest. Pored pasa koje su usvojili, oni brinu i o ostalim psima na ostrvu koje svakodnevno obilaze, hrane i pružaju im svu potrebnu pomoć i negu.
Iako ovo na prvi pogleda izgleda kao priča o pravljenju još jednog skloništa za pse, ona to nije. Još dok su turistički bili u poseti ostrvu Koh Kud, primetili su da na ostrvu postoji dosta pasa lutalica, kao i da je mnogima potrebna veterinarska pomoć.
Nakon što su se preselili na ovo ostrvi, prvi pas koga su usvojili bila je Zuika, a ubrzo im se pridružio i njihov drugi pas iz Litvanije, Rudis. Kao što smo već rekli, trenutno kod njih živi 15 usvojenih pasa, od kojih su 2 slepa, a 4 sa invaliditetom.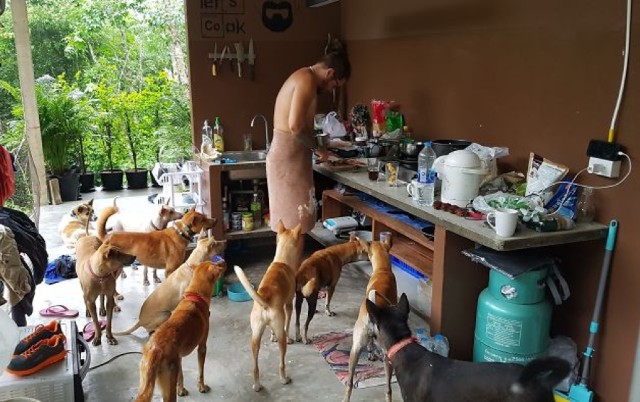 Njihov život svakako nije sjajan i nosi sa sobom dosta prepreka, kao što je npr. to da je vlasnik kuće u kojoj su živeli odbio da im više izdaje kuću, pa su za kratko vreme morali da se snađu i presele.
Ipak, sve ove prepreke nisu ih sprečile da nastave da brinu o psima, čak odlučili i da obilaze ostrvo i pružaju potrebnu pomoć i negu i drugim psima lutalicama.
Nadamo se da će njihov entuzijazam naići na razumevanje i pomoć, jer ovakvi ljudi zaista zaslužuju samo najbolje.
izvor: boredpanda.com